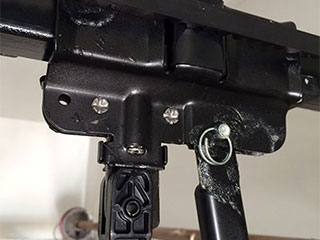 We've discovered some homeowners in Florida have actively avoided any form of regular garage door maintenance because they were under the impression that they would need many hours to inspect their system.
In reality, a basic inspection should only take you a few minutes - all you need to do is closely examine the most important parts of your system i.e. the ones that have the ability to block the operation of your system or cause accidents.
Check The Brains

By this mean we mean the opener. A quick visual inspection should be able to tell you if there is an issue with the electrics - check for loose wiring or anything else out of the ordinary.
It is also a good idea to check the function of the sensors. Place an old rag or broom in the path of the door and check that the door detects something in the way and reverses like it should do. You should also make sure the sensors are facing one another, are clean and that their wires are in place and in fairly good condition.

Does The Remote Control Work Properly?

If you're able to operate your door using the keypad but not the remote, this could signal a problem with the communication between the clicker and opener. If you've changed the batteries, contact us to reprogram your control.

Check The Cables and Tracks

The tracks allow for the garage door rollers to slide as the door opens. Galvanized tracks tend to rust less but all tracks usually need good cleaning and lubrication. They will need replacement only when they are considerably bent or broken and the door cannot move properly - this is pretty rare. On the other hand, it's preferable to replace the garage door cable, which is loose, before it snaps or causes you trouble when you don't expect it.

Extending Spring Life

Depending on how much you use your springs, their average lifetime is 7-9 years. This is based on an average of 10, 000 cycles at 4 cycles a day. To maximize the life of your springs, good maintenance will help. We recommend regular lubrication to limit rust - if you're not sure which substance to use, contact us. During an inspection, you should check if the door comes down faster than you expect - this could suggest tension problems in the springs. You should also check that the door lifts and lowers in an even way.
The safest way to keep your system in good condition is to keep your eyes and ears open for anything unusual and call a professional for a proper service check on at least an annual basis.