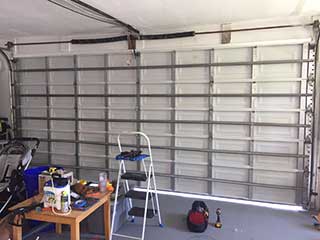 While there are some accidents and malfunctions that can force you to require garage door repair services, there are a lot of issues that can be prevented. Regular maintenance is the key to the longevity of your system, and the service appointments that our company provides are guaranteed to help you reduce the working strain of various components and keep all sorts of major problems at bay.
The Importance Of Springs
One of the main focus points of garage door maintenance is the system's hardest working parts. Those are, of course, the springs. They're what supports and also counterbalances the weight of the panels, which allows you – or your opener – to open and close the door without having to bear its full load. Because these units are under a lot of stress day in and day out, they're bound to develop some wear and tear. That's why inspecting them regularly and adjusting their tension (when necessary) is so important. A broken unit can cause serious harm to anyone standing nearby when it breaks, which is why timely spring replacement is absolutely crucial. Along with checking these components, we'll also lubricate them to ensure their performance stays silent and efficient.
Of Motors and Man
Your garage door opener is the device that turns this system into an automated one. As such, it utilizes safety features to ensure it doesn't hurt any person or object that gets under the door. Our team will check the alignment of the safety sensors and test the auto-reverse feature to make sure you can keep using the system safely. If we find anything needs to be repaired or readjusted, we'll apply the appropriate solution on the spot.
Complete System Examination
Every part of your garage door will be closely examined and checked for functionality. We'll make sure the tracks aren't becoming bent, that the lift cables haven't developed any fraying and that the rollers and the hinges aren't wearing out (we'll also lubricate them to help delay that). With the maintenance service that our team at Garage Door Repair Fort Lauderdale offers, you'll be able to keep using your system for a very long time. Contact us today for more information.
Our team can also take care of:
Emergency Garage Door Services
Garage Door Cable Replacement
Garage Door Safety Inspections
Genie & Liftmaster Opener Services