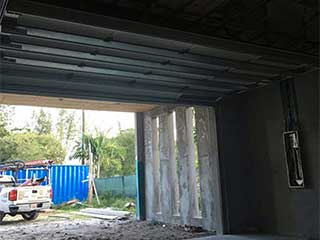 Your garage door is one of the most utilized parts of your property. After years of daily use, changing climate conditions, and accidental damage, your springs, remotes, tracks and the door itself can wear considerably.
Whether you think it's time to install a new door, need a remote to be reprogrammed or need a broken spring replaced, our technicians can help. We'll provide a swift response to all kinds of malfunction and have all the replacement parts you could need.
Broken Or Worn Springs
Garage door springs serve by providing a counterbalance to the door as it opens and closes. Properly functioning springs are needed for your door to be able to lifted and lowered. If they break, this can be a dangerous issue to deal with if untrained. Rather than attempt to inspect or handle the springs yourself, it is best to call a professional out to do it for you and stay on the safe side. If your struggling with loose or snapped springs, our technicians can provide services in an efficient and timely manner.
Handling Opener Problems & Upgrades
Though these motorized devices are extremely helpful, they can also wear down over the years or simply become outdated. Liftmaster has recently released a device which provides remote control function through the internet, meaning you can control your door from anywhere via your phone. Whether you're in need of an opener repair or think it's about time for an upgraded model, our experts are on hand to help.
Know When To Call A Professional
Working with complex systems such as garage doors can be frustrating and downright dangerous if you are not a professional. There are many moving parts in a properly working garage door. When one of these parts is damaged or overused then it can compromise your entire system – ensure these problems are handled safely and efficiently by contacting our experts at Garage Door Repair Fort Lauderdale.
We also offer:
Remote Clicker Replacement
Extension Spring Adjustment
Part Replacement & Lubrication