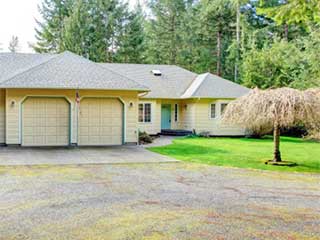 If you live in an area that is known to take the brunt of nature's fury in the form of regular hurricanes, it's a good idea to opt for solutions that best protect you and your home from high wind conditions.
If your garage door is not reinforced, it stands much less real chance in the face of a hurricane, the force of which may cause it to buckle or to be forced off its track.
Know What Can be Done
You need protection from fast moving debris such as road-signs and other powerful projectiles which can dent or damage your door and property. Beyond that, if your door should fail during a storm, the sudden rise in internal air pressure could well result in a weakening of your home's structural integrity if attached, which could lead to your main property becoming damaged too.
If you're in need of a hurricane-resistant door that will protect your home from damage, read on for the best way to go about deciding which solution might work the best for you.
Hurricane Protection – What does it mean?
Different states in the USA are differently affected by the weather - some states may experience much milder conditions compared to Florida. Because of this difference, it is essential for homeowners to determine the minimum wind speed that your door should meet, based on the area that you live in.
Wind-borne debris regions are those that are likely to experience high impact projectiles during a storm, and thus require high impact-rated doors that will stay strong during a storm. Anything less might not adequately protect you, resulting in a constant need to have your garage door repaired.
High-velocity hurricane zones require even greater protection. Ensuring that your residential doors are up to the task of withstanding high wind speeds, will protect your home from damages during a storm or hurricane. Should the door not do its job properly, a sudden increase of air pressure in your garage may result in the roof and windows of your home being blown out.
Home Exposure And Structure Type
The type of exposure that your home is vulnerable to should have an impact on the type of door you choose. Areas tend to be classified according to the likelihood of damage from close-by obstructions. For example, open terrain areas, areas near the coast or large bodies of water, and areas in urban, built-up areas are all likely to be classified differently and come with their own requirements for protection.
For further advice when it comes to hurricane-proofing your garage door, contact our repair experts at Fort Lauderdale in Florida.